SERVPRO is here to help with Long Island Storm and Water Property Disaster Restoration Services.
6/25/2019 (Permalink)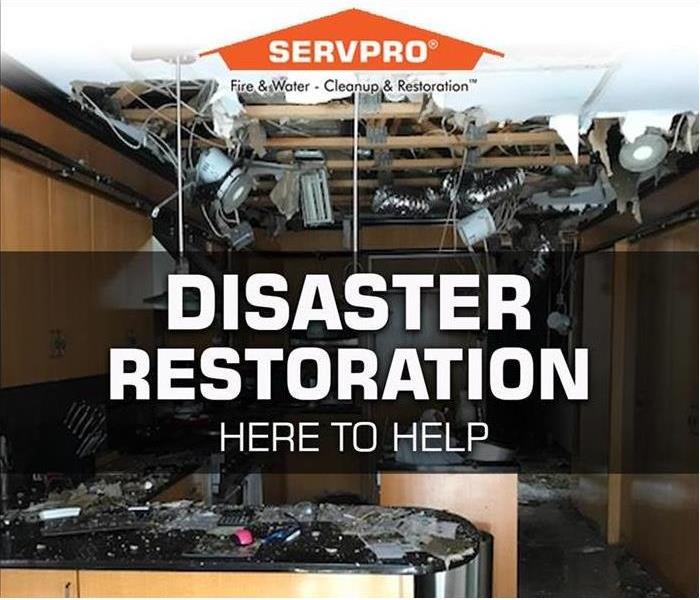 When your home or business experiences a property disaster you can count on the team at SERVPRO to help clean-up your damage.
Learn how your local SERVPRO is here to help with Suffolk County property disaster cleanup and restoration services, regardless of the size.
If your residential or commercial property experiences fire damage, smoke and soot damage, water disaster and sewage backup damage, basement flooding damage, sump-pump failure or mold damage, it's important to contact a local disaster restoration company right away. Our Long Island SERVPRO disaster cleanup and restoration professionals are your go-to source for emergency clean up, removal, remediation and restoration services near you. SERVPRO of Oakdale/North Bay Shore has been helping local Long Island communities for nearly 30 years. We take pride in restoring local Suffolk homes and businesses following property disaster events. Our trusted and highly-trained managers and technicians use the newest technologies and techniques to properly evaluate your damage and coordinate with insurance professionals to restore your property to its pre-disaster condition, "Like it never even happened."
SERVPRO of Oakdale/North Bay Shore offers Emergency Restoration Services in a variety of shapes and sizes to fit your unique Long Island home or business property damage situation.
Emergency Board-up, Tarping, Storage and Fencing – We can provide temporary property security from additional damages and salvage your belongings.
Water Damage Removal, Cleanup and Restoration – We see water damages from all kinds of sources. Busted pipes, malfunctioning appliances, human accidents or neglect, and ground flooding to name a few common sources.
Fire and Smoke Restoration – A fire can be a huge inconvenience, you would be surprised at how much of your property can be restored. We specialize in cleaning and deodorizing anything from family heirlooms, office documents, furniture, flooring and the walls in your home or business.
Mold Remediation – With naturally high levels of humidity in this area mold can be an issue. Give us a call if you need our remediation services.
Sewage and Biohazard Cleanup – We have the training and experience to properly cleanup any area no matter the cause.
Reconstruction and Property Repair – We have trained and experienced construction workers and builders to repair structural issues, drywall, flooring and other property repairs.
Storm related property damage including roof damage and water intrusion from wind, rain and flooding are top reasons for insurance claims in the Northeast. Seasonal Long Island storms bring a ton of moisture and wind causing significant hazards for your home or business, ceiling water damage from a damaged roof is a common spring/summer property damage concern.
Our SERVPRO team responded to a local West Islip home experiencing a roof leak, likely caused by seasonal wind and ice. The water damage was significant and had extended to the ceiling and walls of several rooms, the water leak even caused the kitchen ceiling to collapse. Our Suffolk County based water damage cleanup and restoration team arrived soon after the damage was discovered, however the leak had probably been happening for several weeks. SERVPRO cleaned up and mitigated the water damage in this local home to avoid additional structural damage. If you have water damage concerns or questions about water stains in your ceiling or visible mold growth, call your local SERVPRO of Oakdale/North Bay Shore for the advice and restoration solutions you need.
SERVPRO equipment and highly-trained technicians make a HUGE DIFFERENCE in your commercial or residential cleanup, mitigation and reconstruction following Any Disaster Property Event.
INSPECTING YOUR HOME OR BUSINESS FOR SEASONAL DAMAGE CAN HELP AVOID DISASTER RESTORATION CONCERNS
SERVPRO is always here to help our local Long Island community during a property disaster but, doing a little monitoring around your home or business can prevent flood, water, fire and mold property disasters and insurance claims.
Seasonal property cleaning and maintenance is a great way to inspect for possible damage and remove any built-up clutter, dust and debris, but regular home and commercial property cleaning is more than just cosmetic. These property cleaning and maintenance tips can improve health and safety, and help avoid property disasters from water damage, fire and smoke damage, storm and flood damage, sewage backups and mold damage in the future.
Clean and Inspect the Exterior and Landscaping
While sprucing your yard, take the time to clear out overgrown bushes, dead plants, watering cans, garden tools and other items cluttering your landscape. Unkept outdoor spaces and exterior structural systems like your roof and gutters can often lead to property damage, including slow water leaks or poor ventilation, cleaning up your surroundings will prevent accidents and increase the safety and security of your property.
Examine the roof
This is one of the most important things to do when checking your property. Look for things like missing, buckled, or otherwise damaged shingles, roof damage can lead to water and mold damage. Call a licensed and insured roofing expert to perform repairs, if you experience water intrusion or see visible signs of mold give SERVPRO a call for help.
Check and clean gutters and downspout
Gutters and downspouts divert rainwater away from your roof and foundation, which is especially important when seasonal showers begin. Make sure all gutters are secure and unimpeded by debris. If your gutters seem damaged from the winter weather, make sure to replace them quickly.
Fix and fill cracks in your foundation, porch and walkways
Fluctuating temperatures can cause your foundation, porch or walkways to crack during the winter months. Reduce the opportunity for water damage by filling these cracks as soon as possible to prevent structural damage.
Check outdoor faucets and plumbing
Now that spring is here, you'll want to get started on gardening. If you turned outdoor faucets off and winterized pool plumbing to prevent frozen pipes in the winter, open them back up and check that they are all working properly.
Trim tree and shrub overgrowth
Give the plants and trees on your property a once over. If built up snow and ice weakened any tree branches, make sure to trim them, especially if there is a danger that they could fall on your home or car.
Declutter and Clean the Interior
Dirt and Clutter are not only unsightly; but pose a risk to employees, families and property owners' safety. Clutter can obstruct your entryway, stairs, or hallway making it difficult to see potential water or mold damage. It's also critical to have clear pathways to exits in case of a property fire to make sure everyone can get out safely. Clutter can also contain materials that are flammable or increase moisture retention and high-humidity. Here is a list of some common places to inspect and cleanup before the dirt, damage and debris can cause a major property concern:
Clean often-overlooked areas
There are parts of the office and your home that are often skipped with the dust cloth, as they can be tedious or difficult to clean. So as the season changes, prioritize dusting all those overlooked spots — blinds, baseboards, the tops of doors and cabinets, shelving, fan blades, under the fridge… you know what we mean.
Clean or replace HVAC filters
It's important to clean and replace your HVAC filters throughout the year, and the end of winter is a great time to do this. Dirty filters force your heat, ventilation, and air conditioner systems to work harder, making is less efficient and potentially increasing your utility bills. Dirty filters are also less effective, filtering less contaminants from the air in your home.
Check seals around windows and doors
Winter cold and wind can deteriorate the caulk and seals of your windows and doors. Inspect all doors and windows and re-apply caulk if needed. This will help to reduce your A/C bill in the summer and prevent water from seeping into your home or business on rainy days.
Replace the batteries in your smoke and CO detectors
While you're cleaning the house, take the time to check all your smoke and CO detectors. You should be checking these once a month and replacing the batteries once or twice a year.
When your home or business experiences a property disaster you can count on the team at SERVPRO to help clean-up your damage. We can answer your call 24/7, and our teams can handle any size disaster. SERVPRO of Oakdale/North Bay Shore has the equipment, training, and experience to restore your residential or commercial property to pre-damage condition, quickly and completely.